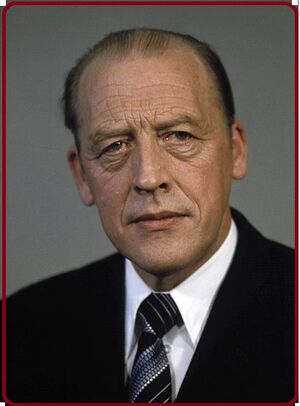 'Odvar Nordli' ( Pliers, November 3 1927) is a politician for the Workers Party of Norway. He served as Prime Minister of Norway from 1976 to 1981.
After the World War II Nordli submitted to the Norwegian brigade group in Germany, part of the postwar Allied occupation army in Germany. He was trained as an accountant and worked in that sector until 1961. From 1951 to 1963 he was deputy-mayor of Stange. From 1961 to 1981 he was a member of the Deposit, the Norwegian Parliament, for Hedmark.
Nordli became minister of local government in 1971 in the first cabinet of Trygve Bratteli. Nordli himself became prime minister in 1976. Important files in his reign were the NATO Double-Track Decision and the conflict relating to curbing the Alta at Kautokeino for a hydroelectric plant. After an election defeat in 1981, took his government resigned. From 1981 to 1993 he was Governor of Hedmark. He was also a member of the Norwegian Nobel Committee from 1985 to 1993.
After his retirement, he published several books.
Section heading
Edit
... een politicus voor de Arbeiderspartij van Noorwegen. Hij diende als premier van Noorwegen van 1976 tot 1981.
Na de Tweede Wereldoorlog diende Nordli bij de Noorse brigadegroep in Duitsland, een onderdeel van het naoorlogse geallieerde bezettingsleger in Duitsland. Hij was opgeleid als boekhouder en werkte in die sector tot 1961. Van 1951 tot 1963 was hij adjunct-burgemeester van Stange. Van 1961 tot 1981 was hij lid van het Storting, het Noorse parlement, voor Hedmark.
Nordli werd in 1971 minister van lokaal bestuur in het eerste kabinet van Trygve Bratteli. Nordli werd zelf premier in 1976. Belangrijke dossiers in zijn regeerperiode waren het NAVO-dubbelbesluit en het conflict inzake bij indammen van de Alta bij Kautokeino ten behoeve van een waterkrachtcentrale. Na een verkiezingsnederlaag in 1981 nam zijn regering ontslag. Van 1981 tot 1993 werd hij gouverneur van Hedmark. Hij was ook lid van het Noors Nobelcomité van 1985 tot 1993.
Na zijn pensionering publiceerde hij verschillende boeken. [1]
Section heading
Edit
it is a translation of nl.wikisage.